+ PLUS… HbA1c Liquid Linearity
CONTROL VALUES

| | |
| --- | --- |
| Part Number | Lot Number |
| | |
| | |
| | |
| | |
| | |
NOD HbA1c Linearity for PTS A1CNow+® and Siemens DCA 2000 "Vantage"®
NOD HbA1c Liquid Linearity does not need Diluent or any Reconstitution
Best Value choice for POL or POC Labs
Lab directors concerned about harmonizing their POC testing with the central lab HbA1c testing program now have a Liquid Control and Liquid Linearity to satisfy compliance requirements for CLIA, JACHO and CAP.
The NOVA-ONE® Liquid Linearity kits have values assigned for the popular HbA1c testing analyzers: DCA 2000, Bio-Rad Variant I & II, Tosoh G-7, G-8 and 2.2, Dade Dimension, Primus, and others.
These liquid linearity and control products are made from human whole blood source material (not aqueous) and can be used just like the patient samples. The products have much longer open vial stability than many lyophilized alternatives.
By using these liquid control and linearity products, the lab can maintain the high processing rates advertised by the analyzer manufacturers for HbA1c testing&helli; while at the same time:

Reducing Cost
Making it easier on the staff to maintain compliance
Liquid Diabetes Linearity Products
P/N NOD HbL-G04041-100
4 vial Liquid Linearity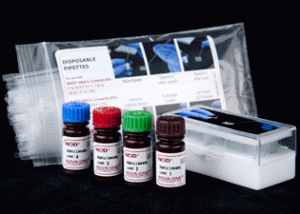 L1+L2+L3+L4 X 1 ml with a $295 List Price; 12 month supply for PTS A1CNow+® and Siemens DCA 2000 "Vantage"®. And also central Lab immunoassay & HPLC analyzers.

Your Point of Care Quality Coordinators' best friend! NOD Liquid Linearity allows easy documentation of satellites recovery cross reference values to their central Lab's results.